Stratford Town Council held their regularly scheduled Council Meeting and closed with a presentation by Commanding Officer, Chief Superintendent Joanne Crampton to Mr. Harry MacLellan for his work with Citizens on Patrol, a community-based crime prevention volunteer group. Mr. MacLellan was the first person to step forward in 2008 to volunteer with the program which was implemented by RCMP.
Mr. MacLellan has worked diligently to recruit new citizens to the group and work closely with RCMP to watch over the community for any unusual or criminal activity, creating a safer neighborhood and fostering excellent relationships with police officers. In 2008, a new RCMP Officer to Prince Edward Island, Cst. Tara McBride began the program as part of the Field Coaching Program which every new RCMP cadet undertakes as they begin their career after training. The Field Coaching Program sees that every new RCMP member develops a community project that enhances community safety and this was the project that Cst. McBride embarked upon. She researched other successful community policing initiatives across the country and met with the Town of Stratford and RCMP administration and began recruiting citizens. Cst. McBride noted, "Harry was the first person who volunteered and he assisted me with recruiting as well as getting the program off the ground. Between June and October of 2008 we were able to gather enough volunteers to begin training and roll the program out to the streets. Harry quickly stepped up to be Chair of the Citizens on Patrol Committee and he's worked diligently ever since. It will be a big loss to see Harry go, but it's been an honor to work with him and I know that the officers who have worked with him over the past few years feel the same way. RCMP will miss his enthusiasm and contribution."
Mr. MacLellan worked with RCMP to establish a similar program in Cornwall which is proving very effective and began work with the Souris area to do the same. His reputation was apparent when five uniformed RCMP members attended the presentation to support and thank Mr. MacLellan. In addition to recognizing Harry, the officers on hand bestowed a gift to his wife, Kathy, for her patience over the years as her husband assisted police in community safety activities and numerous Citizens on Patrol meetings.
Citizens on Patrol work within their communities to curb criminal activities. Their input is vital to police as there is no one better to provide information than those who work, live and value their neighborhoods. The volunteers do not have authority to make arrests or take any action so as to minimize any threats to their safety. Instead, the group is focused on staying aware of what's happening in the neighborhood and providing information to police whenever required. It's a close and effective working relationship that benefits many.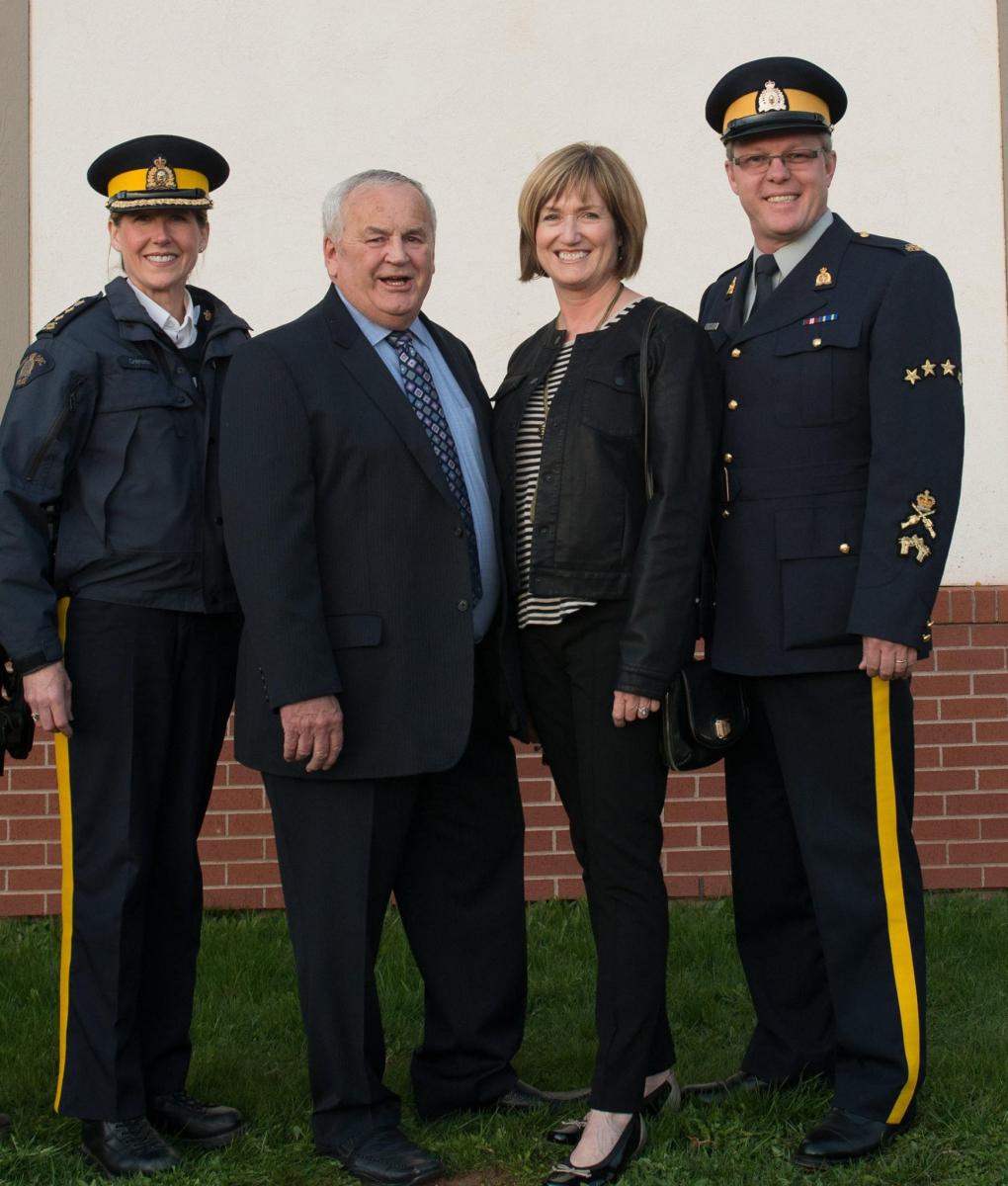 Shown in the photo left to right: P.E.I. RCMP Commanding Officer, Chief Superintendent Joanne Crampton, recipient of award Mr. Harry MacLellan and his wife, Kathy MacLellan and RCMP Queens District Commander, Staff Sergeant Mark Crowther