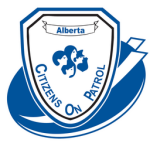 Alberta Citizens On Patrol Association                     October 2018
Alberta Citizens On Patrol continues to grow across the province. The high rate of theft from vehicles, theft of vehicles and property crime has resulted in the growth of the C.O.P. program in Alberta. A retired RCMP has been hired by the provincial Board to train C.O.P. members following the ACOPA Reference Manual. Members receive 3 hours of training in groups up to 40. The second phase of training has been introduced. Training will continue for as needed throughout Alberta.
The ACOPA Workshop/AGM was held in Sexsmith September 21, 22 and 23 with 120 attending. Sessions presented included: How to Take Really Good Care of Your Liaison Officer, Distracted Driving, How COP can Help During an Emergency, Legalization of Cannabis, Crime Reduction Strategies and Auto Theft in Alberta.
ACOPA has completed the production of five videos on the topics of ACOPA Community Engagement, ACOPA Lock it or Lose it, ACOPA What is Citizens On Patrol, ACOPA-Patrol App and RCMP Working with Citizens On Patrol. The videos can be viewed by going to the ACOPA website at www.acopa.ca and looking under Quick Links.
The next step for Alberta Citizens On Patrol will be to work alongside "K" Division to implement a way for the RCMP to let members of Citizens On Patrol know what incidents have taken place in their area in the past two week period. This will be done using the ACOPA website and the ACOPA Patrol app. Patrollers will be able to open their app and find out what criminal activates have taken place where they are patrolling, within a short distance.
Anyone interested in starting a C.O.P. group in Alberta can send a note by going to Contact Us on the ACOPA website.