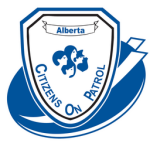 Alberta Citizens On Patrol Association (ACOPA) is a very active organization. There are over 60 Citizens On Patrol groups in the province and several more communities in the process of starting the C.O.P. program. When a community is interested in starting the C.O.P. program, ACOPA has outlined the procedure to follow. This is a program that is formed with the support of the local law enforcement agency as well as community volunteers. Volunteers must fill out an application form and submit to the law enforcement for a Criminal Record Check.
In Alberta, C.O.P. groups must establish a Society through Service Alberta. This means setting up an executive, creating By Laws and setting up a bank account. ACOPA will assist with the details for any community interested in starting the C.O.P. program.
Liability insurance is required for all volunteers before any patrolling can take place. ACOPA works with an insurance provider on behalf of each C.O.P. group to get the best rate.
ACOPA provides training to all C.O.P. groups. A retired RCMP member has been hired by ACOPA to train C.O.P. members using the ACOPA Reference Manual that ACOPA provides to each C.O.P. group. The manual goes through what members need to know in order to fulfill their duties as "extra eyes and ears" in the community. What is permitted in communities may vary from one place to another depending on the Detachment Commander. New members are required to participate in the training when they sign up. The training is also recommended for all members to review and keep up to date on any changes.
ACOPA holds a yearly Workshop where C.O.P. members gather for the Annual General Meeting as well as to listen to speakers on subjects that pertain to increasing the knowledge to assist patrollers. The Workshops are held at a different location, usually in September, where a local C.O.P. group organizes the details.
ACOPA has developed an app for patrollers called ACOPA-Patrol – the app is available for Apple products on the App store. For Android products the app is available on the Play Store. The app is an electronic way to report patrols. The app generates a map of where the patrol went, as well as drops a pin on the map where notes and stops were made as well as keeps track of time, kilometers driven and has icons where special notes and photos can be taken.
ACOPA has a website where you can go to find more information. Go to https://www.acopa.ca where you will be able to read recent newsletters, watch the videos about the C.O.P. program, check out ACOPA's Face Book, see where there are C.O.P. groups in Alberta and go to Contact if you want more information.